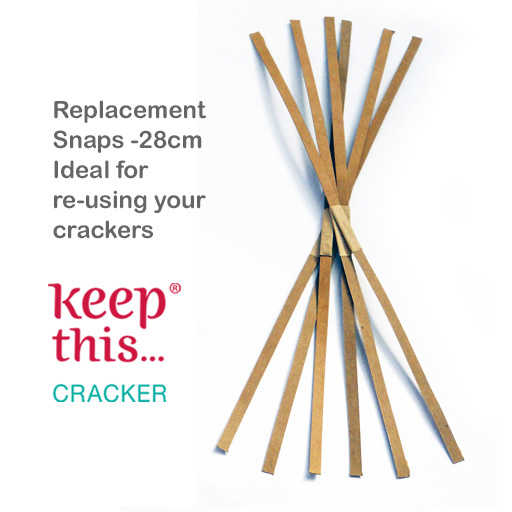 Replacement Cracker Snaps x12
£2.00
Replacement Cracker Snaps
Re-use your Eco Crackers, simply replace the snaps. For more information, see to the 'How to ' page for diagrams and view our short video. These snaps come wrapped in paper sleeves.
PACK SIZE: Pack of 12.


DIMENSIONS: 28cm long


USAGE INSTRUCTIONS: Do not pull snaps outside the crackers.
Pull the crackers away from your face and at arms length.
Keep away from small children and pets. For sale to persons
over 12 years only.
CATEGORY: F1 1008-F1-69256783 (Batch no 502747)
Manufacturer - Pingxiang Qingyun Imp.& Exp.Co., Ltd. China

SPECIAL NOTE: for Customers in Northern Ireland and The Channel Islands
From January 1st 2021, standard snaps will no longer be available to addresses in Northern Ireland and The Channel Islands.
Ecosnaps can be sent as an alternative.
https://www.keepthiscracker.com/store/product/ecosnap-12-x-pet-friendly-replacement-snaps
'Keep This Cracker' crackers sent to Northern Ireland and The Channel Islands will be delivered with ecosnaps only.