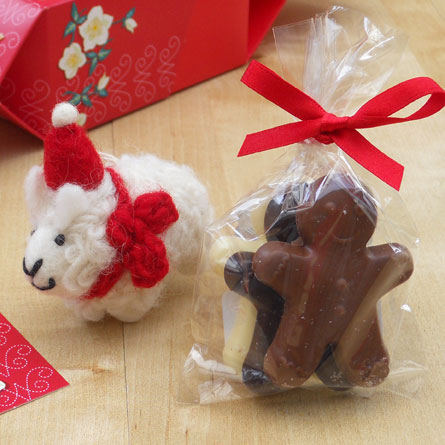 Festive Sheep & Chocolates - with your choice of cracker
£ 6.00
Christmas Crackers with gifts you will want to keep!
I have selected these special handmade gifts to bring you a truly desirable set of contents for your crackers... to taste, to keep and to cherish.
Handmade Chocolate Ginger Bread Men - 1x milk, 1x white and 1x dark.
Ingredients; Sugar, cocoa butter, whole milk powder, cocoa mass, emulsifier:
soya lecithin, natural vanilla (cocoa solids milk 33%, white 28%, dark 55%)
(milk solids milk 20.5%, white 25%).

Festive Sheep - Felted Decoration Handmade in Nepal (not a toy)
'This product has been made by skilled Crafts people in Nepal and by buying this
product you are supporting Fair wages, working conditions and helping secure
future employment.' Amica Accessories
CHOOSE YOUR CRACKER: 'Christmas Floral' - red, red/green, white/red,
'Finesse' cherry, 'Ornate' red, 'Folk' red/green.
DIMENSIONS:
Cracker - when made-up 11.5 x 5.5 x 5.5cm (area for gift) - and 30cm long
with Matching Gift Tag
MADE TO KEEP... They come flat-packed, ready to pop into shape and
fill with your own special gifts. They do bang when pulled but don't tear.
To reuse, simply replace the snaps. Full instructions included.
If you'd like more information, please refer to the 'How to' page to see the
diagrams and view our short movie.
ALSO AVAILABLE: Packs of Replacement Snaps.
MORE INFORMATION ON THE GIFTS:
The chocolates have been handmade in York by Guppys Chocolates.
The handmade decorations are brought to you by Amica Accessories.
Feel free to email for more information.