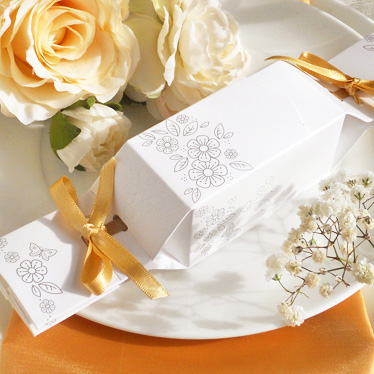 10 Favour Crackers - Floral design - choice of ribbon colours
£24.00
Only 1 remaining
Celebrating a Special Occasion? These Favour Crackers with a 'Floral' design, make
perfect party favours suitable for Christenings, Anniversaries, Baby Showers,
Engagement Parties and Graduation or simply to pack special Birthday gifts.
Made in UK, they bang and pull open without tearing, ideal for your guests
to take away at the end of the day. Fill them yourself with your own choice of gifts.

SEE OUR BULK OFFER for orders of 80 crackers or more

Printed in silver on white, with a choice of ribbon colours to match your theme.
Other designs also available.
PACK SIZES: flat-packs of 10 - including 10 snaps and ribbons.
DIMENSIONS: when made-up 9 x 4.5 x 4.5cm (area for gift) - and 23cm long
MORE INFORMATION:
1) Colours shown may vary when viewed on screen, if you'd like a sample of ribbon
please email your request to bea@keepthiscracker.com
2) If you would like a specific quantity of crackers that's no problem,
please email bea@keepthiscracker.com with your requirements.

ALSO AVAILABLE:
Matching Place Name Tags
Replacement snaps in packs of 6 and 12