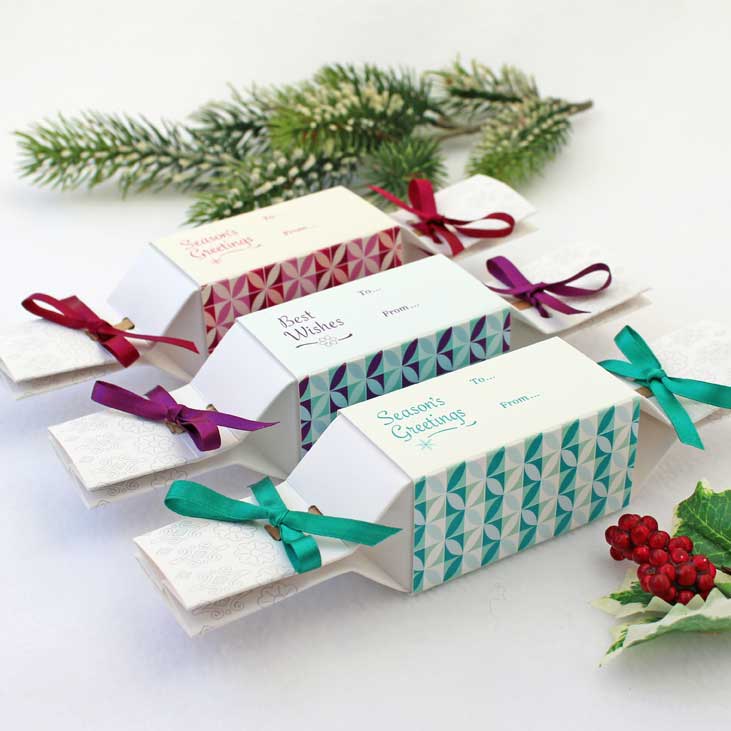 1 Favour Cracker you can personalise - in 3 designs (fill-your-own)
£ 2.95 incl. tax*
Fill-Your-Own Favour Gift Box Crackers with printed sleeves. Limited Edition!
These Gift Box Crackers come with two messages, 'Best Wishes' and 'Season's Greetings' with a space to write the recipient's name.
3 colour geometric designs with matching ribbon colours to choose from.
PACK SIZE: Single Favour Cracker with snap and ribbons
DIMENSIONS: when made-up 9 x 4.5 x 4.5cm (area for gift) - and 23cm long
Ready-made and easy to pop into shape. Full instructions included.
If you'd like more information, please refer to the 'How to' page to see the diagrams and view our short movie.
ALSO AVAILABLE: Packs of 6 Replacement Snaps.
MORE INFORMATION:
1) Colours shown may vary when viewed on screen.
2) Please refer to our Terms for more information on the ordering process.
* Based on residence in United Kingdom. Tax rates for other countries will be calculated at the checkout. Price exclusive of tax: £ 2.46.