How do you get chosen by a Dragon?
by Bea Thackeray
Four years ago 'Keep This Cracker' received a boost from retail entrepreneur Theo Paphitis.
I tweeted about my business during 'Small Business Sunday' and was one of six weekly winners to gain a retweet by Theo to his 500,000 Twitter followers!
'Keep This Cracker' is now part of the #SBS community, and is profiled on the #SBS website www.theopaphitissbs.com
So how did I do it?


When I won #SBS, 'Keep This Cracker' was only three years old, so getting the message across about my product was a massive challenge. Being recognised by Theo was a real boost and the welcome from the #SBS network was overwhelming.
First of all, what is #SBS?
This weekly initiative was set up by Theo in 2010.
Small business owners are given a chance to win a re‐tweet from Theo. All you have to do is tweet him about your business on Sunday between 5 - 7.30 pm and include the hashtag #SBS. Every Monday at 8 pm, six lucky businesses are re-tweeted and then invited to enter their profile on the #SBS website. There's an annual #SBS networking event and plenty of networking opportunities to take advantage of.


Small business champion Theo Paphitis, said: "We are thrilled to welcome new #SBS members every week and highlight just how important it is to support our small businesses here in the UK. My vision is that everyone who has ever won an #SBS re-tweet from me becomes part of a friendly club of like-minded individuals. I wish 'Keep This Cracker' every success."
Here's a selection of my tweets...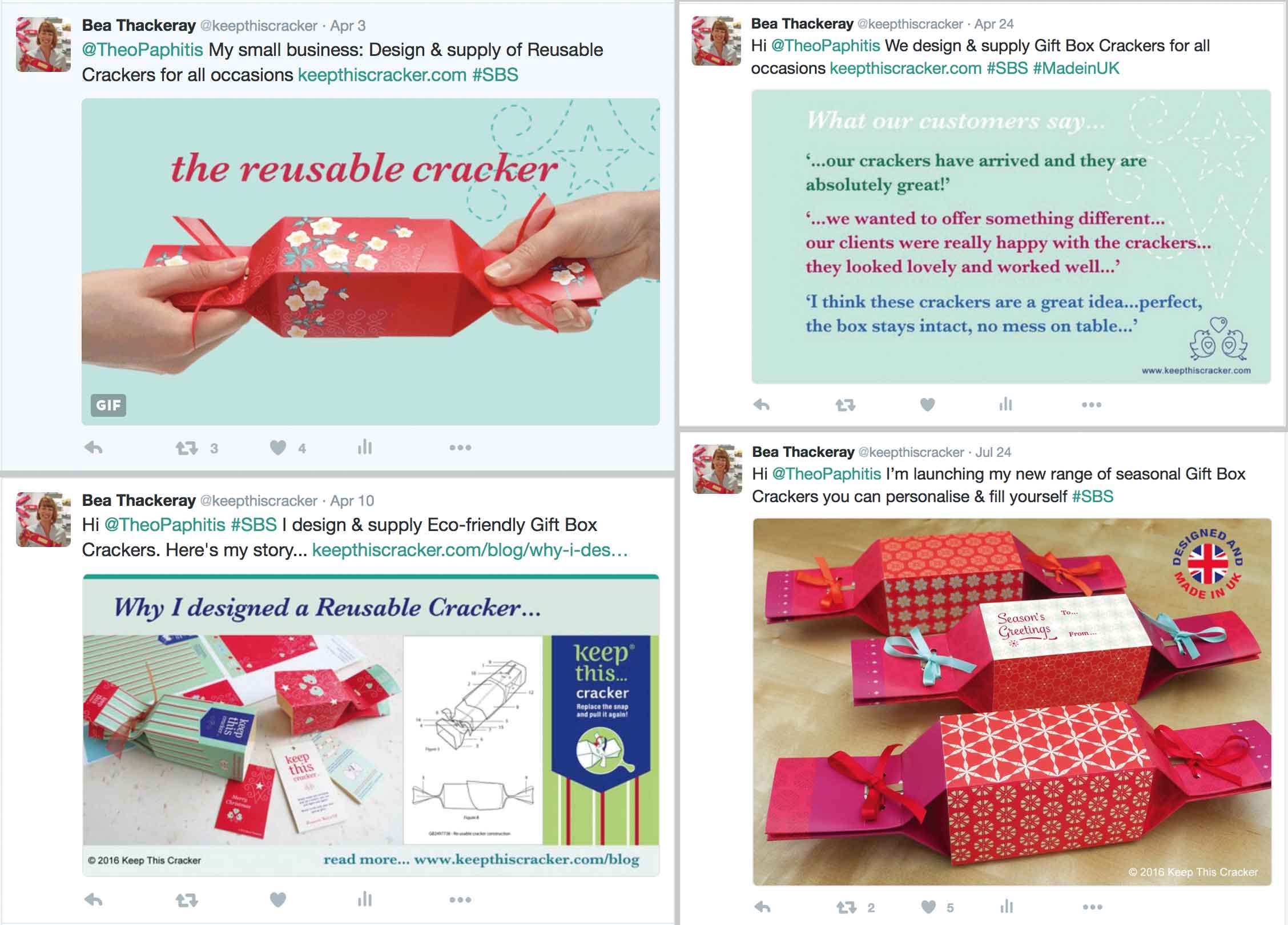 My Top Tips for entering #SBS
1) If at first you don't succeed... don't give up!
If you do you will never know how close you got. I tweeted #SBS about 10 times over the space of four months.


2) Change your message for every tweet
I found so many things I wanted to say about 'Keep This Cracker' and it was another great opportunity to share news about my business. Also, I was curious to see which message would grab the best attention. I checked the Twitter analytics for every tweet to see the different levels of engagements, it was fascinating.
See below. The top one is the winning tweet.

3) Make sure you only send 1 tweet on a Sunday (5-7.30pm)
This is recommended by the good people at #SBS.
4) What I have learnt...
Regular re-tweets are a great way to support other businesses and grow your network.
I have learnt so much about other networking opportunities, great business ideas, potential customers as well as new suppliers.
The welcome from the #SBS Winners community and other entrants was overwhelming. I could hardly keep up with the level of email and Twitter traffic in the week following the win. In turn, I will do my best to support new winners from now on, as the journey continues...
And here's the winning tweet...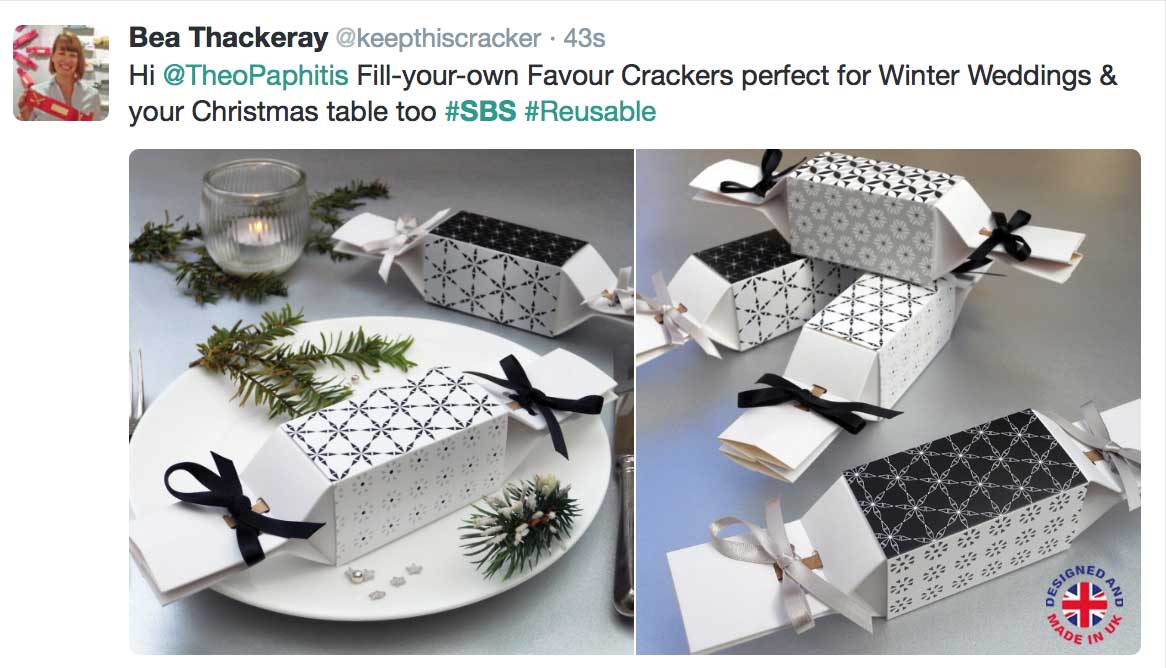 Keep This Cracker is a reusable alternative to the standard disposable cracker.
What makes them different? They pull open without tearing and are easy to re-use, simply replace the broken snap with a new one. They come flat-packed and ready-made, to pop into shape and fill with your own gifts.


© 2020 Keep This Cracker
For more information, contact: Bea Thackeray at bea@keepthiscracker.com
For more information about Small Business Sunday visit: www.theopaphitissbs.com