5 Reasons to Change a Business Name
by Bea Thackeray
One of the first tasks, when embarking on a new business, is to dream up a name. You'd think it would be the fun bit... it took us months. I even resorted to reading the dictionary cover to cover out of exasperation! Our business was launched in 2013 under the name 'Keep This Design'. However we recently asked ourselves some questions and took the decision to change it. This is why...
1 Is it memorable?
If you find yourself repeating your business name, or worse still, having to spell it out, then you know it's not working. It can be really hard to decide on a name and when you finally settle on one, it becomes so familiar to you that you can easily make the mistake that it's equally familiar to everyone else. Our name was quoted as 'Keep It Design', 'Keep The Design' and all other possible variations. It was clearly not memorable or indeed meaningful either.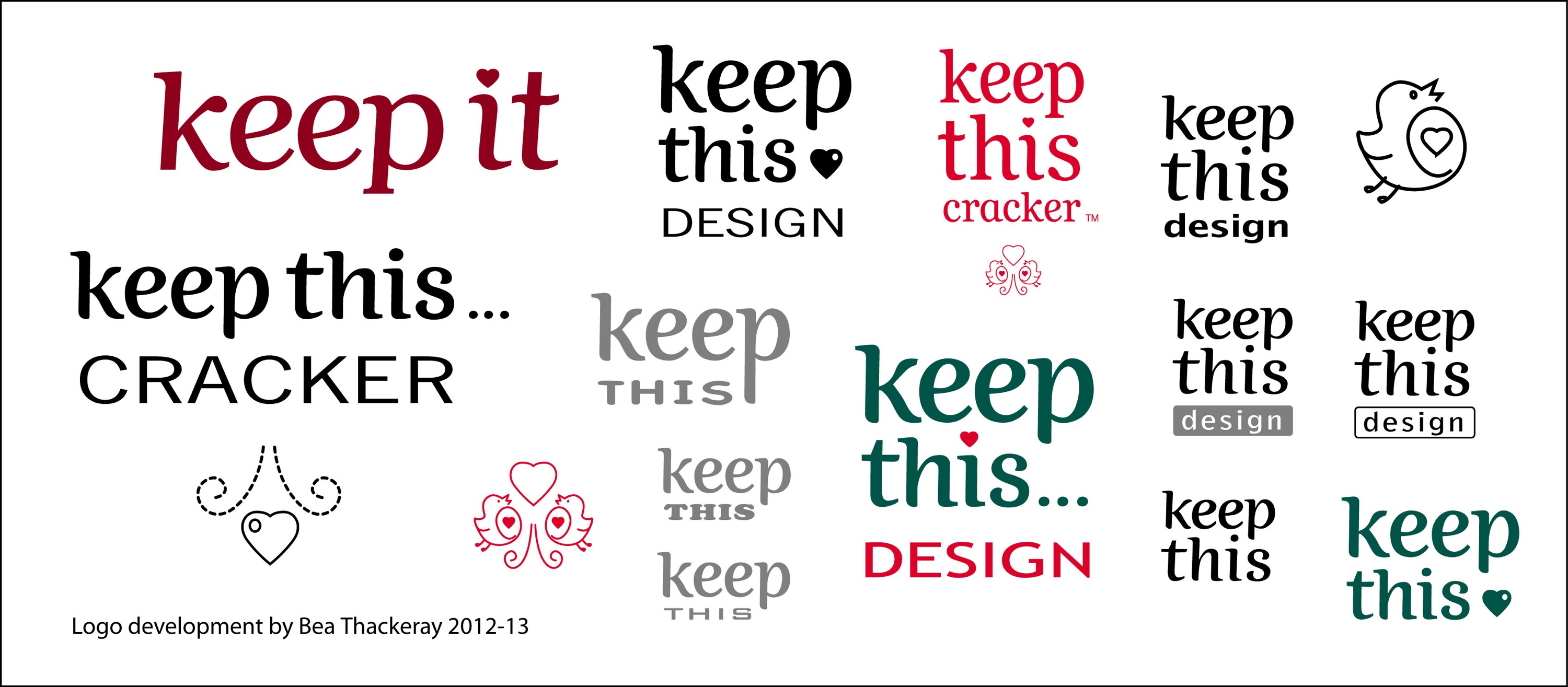 2 Does your name adequately describe your business or product?
We wanted to keep our options open when choosing our name, and that it should describe our design activity rather than the product. But it's only when you begin using your name in different contexts, you see the proof of the pudding is in the eating. When 'Keep This Design' was printed in trade show directories and above our exhibition stands, it didn't adequately describe what we were selling. Seems very obvious in retrospect.
But don't rule out the use of abstract names, it may work for you. Nick Jenkins chose to call his company 'Moonpig', it was his nickname at school.
3 Does it work?
In other words, is it effective across all applications eg. marketing material, packaging, online? We found that 'Keep This Design' wasn't getting the message across, so we made the decision to change the name and update the logo to 'Keep This Cracker'.
The usual expectation is that a cracker ends up as rubbish when it's pulled, so why would anyone want to keep one? It's great if a name can spark a conversation. We hope that 'Keep This Cracker' will make people stop, think and question.
When choosing your name, consider the following;
- Is it legible and easy to pronounce?
- What images does it conjure up?
- Does it have any negative connotations?
- Does it fit with your brand concept and suit your target market?

4 Should you use puns?
Initially we thought it was the obvious route and spent far too much time trying to devise one. We weren't clever enough, luckily, as I have since learnt that puns are not the best option. The general consensus is that they are funny on first reading but can become a bit tiresome over time.
A recent trend is the use of imperatives and we decided on this approach. Our new name tells our customers what to do with our product – don't bin it, save it.
5 Is anyone else using it?
Last but not least, are you encroaching on someone else's rights? Do searches at Companies House, on Trademark registers and for available domain names, etc.*
One of the original choices for our business name was 'Keep It'. I was delighted with the idea but it was quickly binned. I learnt not to get too attached when I found another company in Europe was already using it.
We are glad to report that since changing our name we have not been asked to repeat or spell it out. With the new season of trade and retail fairs fast approaching we are looking forward to seeing how our customers respond to the change. See our 'About us' page for the list of fairs we are attending this year. If you are visiting any of these do drop by our stand, it will be great to meet you.
*Please seek further advice on intellectual property issues and legal uses.
Please note there are rules on which names can be registered.
('Keep This...' is a registered trademark)
Post by Bea Thackeray 03.07.2015
Please email your comments and suggestions to bea@keepthiscracker.com