Eco friendly Christmas Crackers...
---
Christmas wouldn't be complete without party crackers, particularly in the UK, where it's estimated that over 100 million are pulled in one festive season! Did you know, 12 million* crackers alone, laid end to end would stretch in a line from the UK to the North Pole?
(*Estimated on a standard cracker length of 34cm.)
I believe environmental concerns should be at the centre of the product design process. I don't just consider how the product will be recycled at the end of it's life, but primarily; what it's made of, where it's made and how it functions.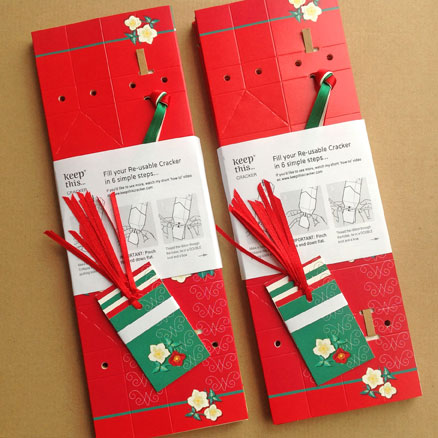 Packaging
Unlike most crackers, 'Keep This Cracker' fill-your-own options come flat-packed, ready to be popped into shape, so, much less packaging is used. The crackers are now packed in less plastic, I've replaced the cello bags with paper sleeves and am now using 100% recycled outer posting bags instead of padded envelopes. Packaging and promo material is printed on recycled paper.
Materials
These Party Crackers are made using FSC Certified folding box board (paper from responsible sources). Printed in the UK.
Made in UK
All the component parts, packaging and promotional materials are sourced from UK manufacturers. (The snaps come from a UK based importer as I don't know of anyone that makes them here...yet.) The crackers are assembled and packed in-house.
Function
'Keep This Cracker' is re-usable, unlike standard disposable crackers. The Patented construction allows the user to easily replace the snap without any glue or mess.
To see more, please go to the 'How to...' page.
Recycling
Crackers by 'Keep This Cracker' are fully recyclable. They can be taken apart and all the components and packaging easily separated, ready to be re-purposed or recycled.