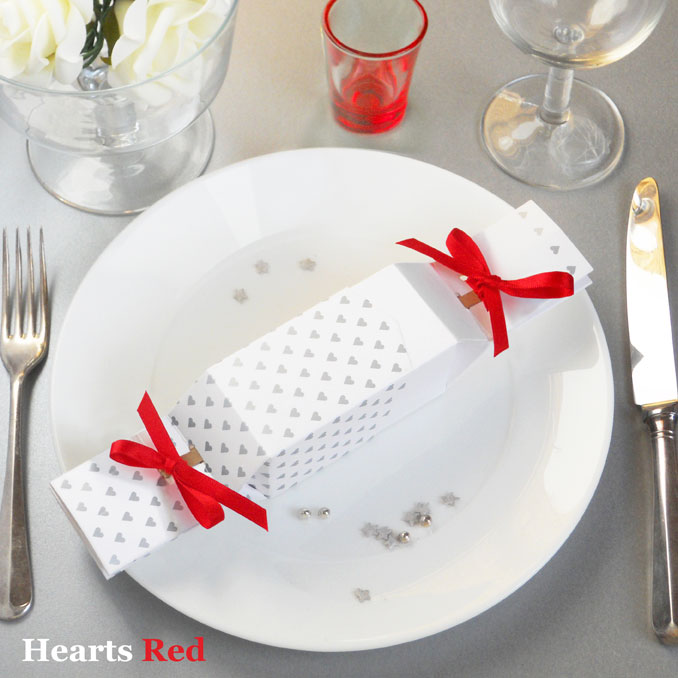 Wedding Favour Crackers x20 - 'Red' theme
£ 32.00 incl. tax*
Designs
Number of Crackers
Perfect for a Red-themed Wedding, these Favour Gift Box Crackers come in a
choice of four designs with Red satin colour ribbons. Fill them with your own choice
of gifts such as; chocolates and why not add some rose petal confetti too?
They make perfect keepsakes of your Special Day as they go bang but pull
open without tearing, so your guests can keep them as mementos. Made in UK.
NEW BULK OFFER:
JUST £1.60 per cracker - Pack of 20
£1.40 per cracker - Pack of 100
plus postage
Designs are printed in silver on white; 'Floral', 'Hearts', 'Lace' and 'Snowflake'.

DIMENSIONS: when made-up 9 x 4.5 x 4.5cm (area for gift) - and 23cm long
Supplied flat-packed with ribbons and snaps.
MORE INFORMATION:
1) Colours shown may vary when viewed on screen, if you'd like a sample of
ribbon please email your request to bea@keepthiscracker.com
2) If you would like a specific quantity of crackers that's no problem,
please email bea@keepthiscracker.com with your requirements.

ALSO AVAILABLE:
Matching Place Name Tags
Replacement snaps in packs of 6
* Based on residence in United Kingdom. Tax rates for other countries will be calculated at the checkout. Price exclusive of tax: £ 26.67.