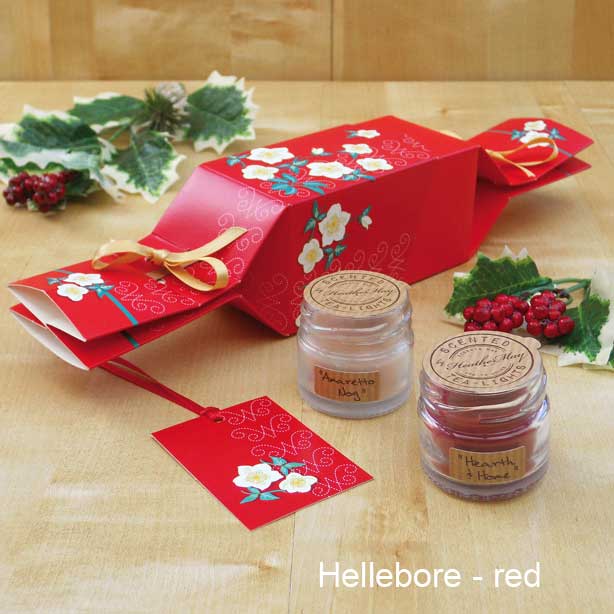 Filled Cracker & tag - with 2 candles (SAVE £3.50)
£ 5.00 incl. tax*
Only 5 remaining
Cracker designs
Candle fragrances
Introducing... NEW filled Gift Box Crackers
These crackers include;
- Two Scented Festive Tea Lights; each candle has 10 hours burning time in total (25g each)
- Matching Gift Tag

DESIGNS choose from: Hellebore red, Hellebore red/green, Hellebore white/red,
Finesse cherry, Ornate red, Folk red/green.

CANDLE FRAGRANCES choose from:
a) 'Hearth & Home' with 'Amaretto Nog'
b) 'Cinnamon Sticks' with 'Christmas Spice'
c) 'Christmas Spice' with 'Hearth & Home'
d) 'Cinnamon Sticks' with 'Hearth & Home'
We have specially selected these gifts to bring you a truly desirable set of contents
for your crackers, to keep, cherish and use. Handmade by independent UK makers.
DIMENSIONS:
Cracker - when made-up 11.5 x 5.5 x 5.5cm (area for gift) - and 30cm long
Ready-made and easy to pop into shape. Full instructions included.
If you'd like more information, please refer to the 'How to' page to see the diagrams
and view our short movie.
MORE INFORMATION ON THE GIFTS:
Scented Tea-Light Festive Candles made 'by Heather May'.
Feel free to email for more information.
* Based on residence in United Kingdom. Tax rates for other countries will be calculated at the checkout. Price exclusive of tax: £ 4.17.