More about Keep This Cracker...
Reusable Party Crackers are an eco-friendly alternative to the standard disposable cracker.
Allow me to introduce myself, I am Bea Thackeray designer/inventor of the Re-usable Party Cracker. After years working as a senior graphic designer, I decided to start 'Keep This Cracker' and share my invention with the world.
"With a flash of inspiration and a huge pile of prototypes later, I launched the first Reusable Gift Box Crackers in July 2013. Since then I've been busy working on new ideas for Wedding Favours and personalised designs."
"I'm proud that the 'Hellebore' design has been awarded Highly Commended in the GA 'Gift of the Year' awards. The 'Mini Favour Gift Box Crackers' were short-listed in the Eco-friendly category".
'Keep This Cracker' Gift Boxes are made in the UK. All packaging, promotional material and component parts are sourced from UK manufacturers (with the exception of the snaps).
The full collection of Gift Box Crackers are available to buy online here. Also sold on my Etsy store.
Here's my '60 Second Pitch' filmed at the International Spring Fair (Birmingham NEC)
PS. To those who know us as 'Keep This Design', we have since updated our name.
Very proud to announce that 'Keep This Cracker' won the #SBS (Small Business Sunday) Award. Chosen by Theo Paphitis.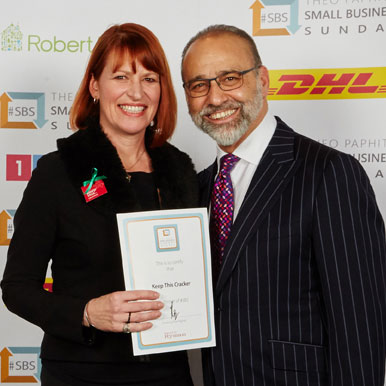 If you'd like a chance to win, tweet about your business on Sundays between 5 - 7.30 pm and include the hashtag #SBS. Six lucky businesses are re‐tweeted by @TheoPaphitis every Monday at 8pm.
For more information about Small Business Sunday please visit www.theopaphitissbs.com
Theresa Pert
'I love reusable gift wrap and I use reusable wipes for baby and myself - it opens up a whole new world! I think reusable crackers are a fabulous idea - normal crackers are such a waste and you buy each year, throw away and tend not to like the contents anyway!'
Chamane Epps - Sales & Events Manager
'We filled the crackers with chocolates to give to our guests on Mother's Day and they were very well received, the perfect surprise and a great topic of conversation at the lunch table.'
Sandra Collinson
'I think these crackers are a great idea, I wanted crackers as a favour carrier for my wedding but the thought of lots of crumpled torn paper all over the tables like normal crackers after they have been pulled was putting me off the idea, then I came across the "keep this cracker" website and thought these are perfect, the box stays intact, no mess on table. I think they are a very good price also. Many thanks for great services, one very satisfied customer.'
Charlotte Glenn
'Just a quick note to say that our crackers have arrived and they are absolutely great! Thank you!'
Vanessa Chalcou (AV Projections)
'It was a pleasure working with Bea. We and our clients were really happy about the crackers and we had fun playing with them during the Christmas period. The crackers looked lovely and worked well, as we wanted to offer something different to our client. Furthermore, they were easy to make. Thank you so much!'
Join me on Twitter


@keepthiscracker